The Cocksfoot Harvest
18 December 2020 to 21 March 2021.
For decades, the harvesting of cocksfoot grass seed drew hundreds of labourers to Banks Peninsula.
Ripe grass stalks were cut, threshed, riddled and bagged by hand – hard manual work, carried out under the hot summer sun.
Akaroa Cocksfoot grass seed became known worldwide for its quality and was an important source of income for Banks Peninsula farmers. At its peak, between about 1880 and 1910, growing cocksfoot grass seed was an industry that rivalled the "big three" – wheat, meat and wool.
Akaroa Museum's summer exhibition of photographs illustrates the process of the harvest and the men who worked to bring it in. The exhibition complements the permanent cocksfoot exhibit in the Land & Sea gallery, where a cocksfoot threshing machine, riddles, flails and reaping hooks are displayed.
---
Banks Peninsula Landscapes
May to December 2020.
A selection of watercolour and oil paintings, and one pencil drawing, from the Akaroa Museum collection.
Some works were on display for the first time, including Margaret Stoddart's Cottages, Little River (c.1923) donated to the Museum by Jeanette Nolan in 2016.
---
J. H. Menzies: Design & Decoration
December 2019 to March 2020.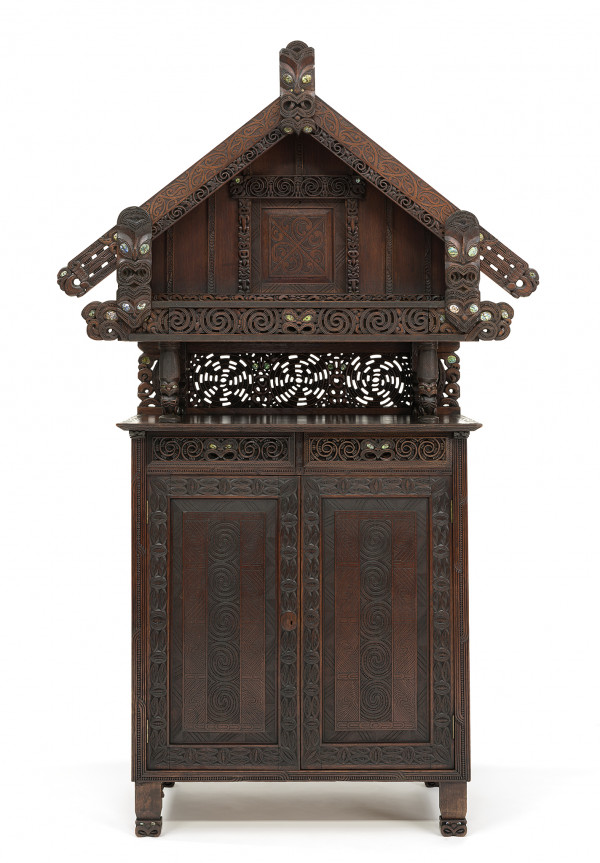 This exhibition discussed the architectural and furniture design of J. H. Menzies.
It featured six pieces of his furniture, including the magnificent Stanford Family Pātaka Cabinet, a co-acquisition by Akaroa Museum and the Christchurch Art Gallery Te Puna o Waiwhetū.
Read more about the Stanford Family Pātaka Cabinet.(external link)
It also included two photographs by the photographer Neil Pardington.
---
June's Wardrobe: an autobiography in outfits
May to November 2019.
Akaroa Museum showcased nine outfits from its June Hay costume collection with June's Wardrobe: an autobiography in outfits.
June Hay, nee Goodwin, from Pigeon Bay, is renowned locally for her interest in fashion, as a dressmaker, and for keeping her entire wardrobe, a collection that spans several decades.
The selection of outfits reflected the transition June made from a young single woman in the 1940s to a wife and mother in the 1950s and 1960s.
---
A Photographer's Eye: Donald McKay's 1950s
December 2018.
Living in Le Bons Bay, Donald J. McKay was "Banks Peninsula's resident photographer" from 1949 to mid 1961.
This exhibition of 24 of his photographs showed local people and places through his eyes, with his characteristic humour and his creativity.
---
No Voice No Choice
October 2017.
This exhibition was created to tie in with Beca Heritage Week 2018 and Suffrage 125 Whakatū Wāhine.
The exhibition was about the lives of twelve Banks Peninsula women from the 19th and 20th centuries, during the period when the campaign for suffrage was underway, and in the decades immediately afterwards.
---
Banks Peninsula Wide
December 2017.
Panoramic photographs were taken during the 1920s by photographer Robert Percy Moore.
Moore's wide-format photographs present a 200-degree horizontal arc.
Mounted inside dark oak frames, R. P. Moore photographs are instantly recognisable.
---
T. E. Taylor Studio Photographs
May 2017.
An exhibition of more than 50 of T. E. Taylor's photographs, taken during the period 1896-1910, digitised and printed from their original glass plate negatives.
---
The Richard Stewart Original Pharmacy collection
May 2017.
The old chemist shop building at the corner of rues Lavaud and Croix has been the source of a wonderful collection of advertising signs, packaged remedies, balance scales and mortar and pestles.
Also in the collection were records from the pharmacy including prescription books and a poisons register.
The exhibition focused on Henri Citron, the chemist who moved into the shop on the corner of Lavaud and Cross streets in 1883, the two generations of Dodds who ran the business from 1888 to 1926 and the two generations of Stewart who followed them.
---
Painted and Carved: the art of J. H. Menzies
April 2016.
Painted and Carved presented a survey of the unique artistic output of John Henry Menzies (1839-1919), otherwise employed as a Banks Peninsula farmer.
Menzies' artistic legacy includes around 80 pieces of carved furniture, one decorated house (of three) named Rehutai, and one decorated church, St. Lukes Anglican Church at Little Akaloa.
In 1910 he published Maori Patterns Painted and Carved. Menzies was fascinated by the patterns in Māori art which he studied and reproduced in his art works, often combining these with botanical reliefs, Celtic motifs, proverbs and sayings.